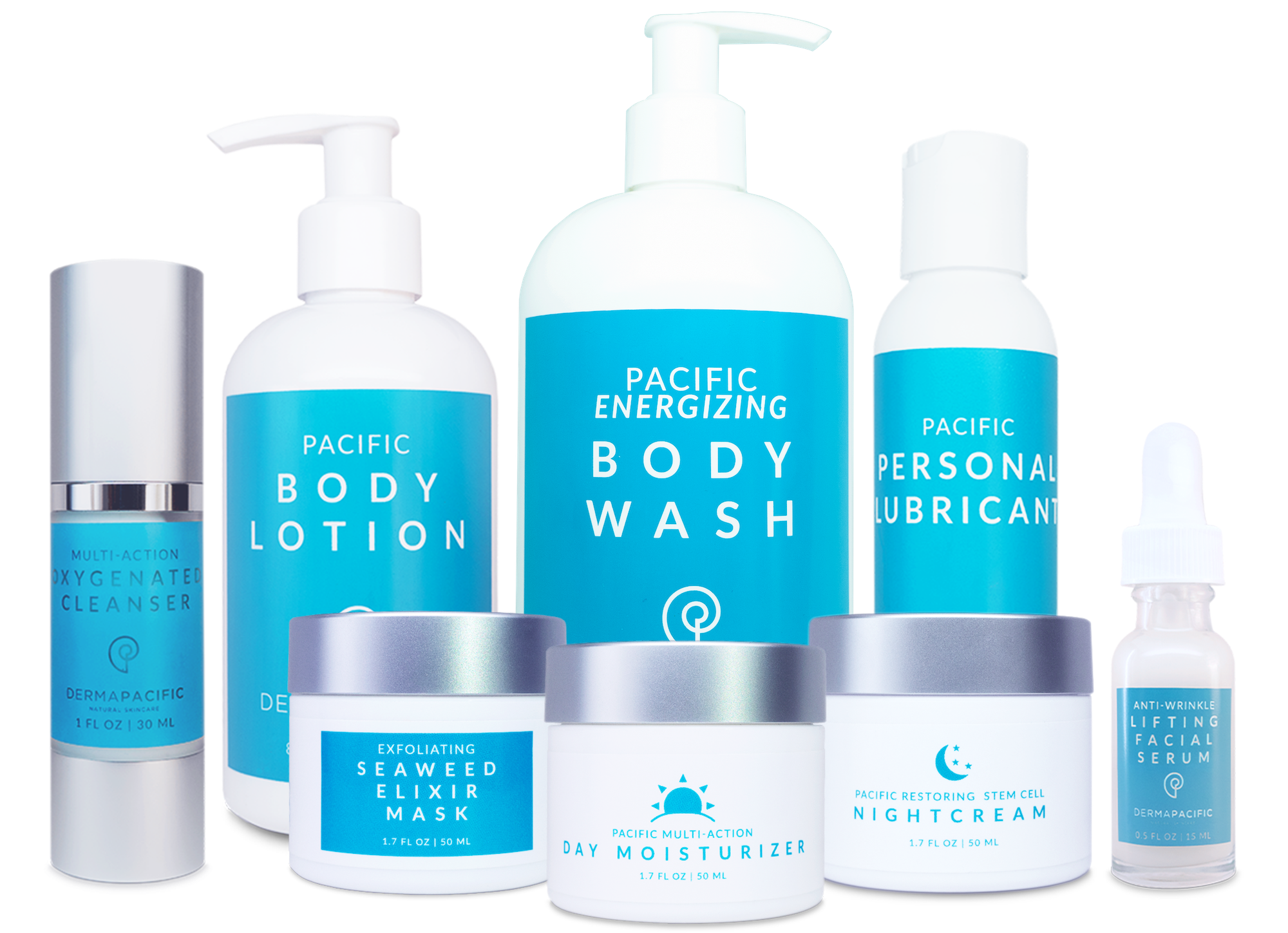 $279.00 $209.25 (Save 25%)
The Derma Pacific Complete Kit offers the experience of everything. This kit is the one with everything - from an energizing morning regiment to a restoring evening treatment and everything in between. Give your face and body the skin care it deserves by letting the ocean-based ingredient products from Derma Pacific restore you.
Pacific Energizing Body Wash

A delightfully cleansing gel that can be used as a shower gel, shampoo, or gentle bubble bath. You will feel refreshed and invigorated. One small capful produces lots of moisturizing foam. Enjoy fresh and gentle cleansing with a burst of fragrance! Take care of your skin with our soothing ocean breeze scented foaming body wash!
Treat your whole body with this luxurious moisturizing formula. Filled with nutrients to help keep skin healthy and hydrated all day long.
Multi-Action Oxygenated Seaweed Cleanser

Cleanser formula for balanced, dewy, glowing and nourished skin. Use daily as a gentle wash to rejuvenate skin or use in conjunction with the rest of our products. Age spots disappear, wrinkles fill in, collagen is boosted, and your skin glows. Plus antiradiation properties found in these seaweeds protect skin from daily and long-term sun damage and aging.
Anti-Wrinkle Lifting Facial Serum

This product is a deep penetrating treatment that serves to help restore a youthful appearance to the skin and minimize the visible signs of aging.
Pacific Multi-Action Day Moisturizer

Everyday moisture to keep skin balanced, young and vital. Natural botanicals, Vitamins and anti-oxidants gently soothe, soften and hydrate skin.
Pacific Restoring Stem Cell Night Cream

Give your skin the moisture it needs with this thick, nourishing cream. It contains stress-reducing essential oils of Lavender and Orange to calm as the vitamin-rich cold-pressed vegetable oils allow penetrate into the skin and improve moisturization. Anti-inflammatory botanical extracts of Chamomile, Lavender & Lemon Balm help to further soothe the complexion.  
Exfoliating Seaweed Elixir Mask

This illuminating marine face mask leaves you with an amazing complexion. Brightening and purifying your skin, its blend of essential oils and rich seaweed will deeply detoxify the skin leaving you feeling silky soft and radiant.
Pacific Personal Lubricant

Our personal lubricant is a water based formula that provides soothing moisture. Natural ocean ingredients can relieve vaginal dryness and help prepare for sexual intimacy.